2016-01-13 av Iain Hay.
As autumn turns to winter, the last leaves drop and the cold, damp wind seems to slice through you no matter how thick your coat, I invite you to join me in a toast to an Irish chef from years ago…
One cold and wet night in January 1942, a flying boat left Foynes air base near Shannon in Ireland bound for Newfoundland and New York. The weather was terrible and the pilot decided to return to Ireland rather than risk the welfare of his passengers. The air base was notified by radio and staff were brought back to work to take care of the cold, tired travellers.
The restaurant chef, a man named Joe Sheridan, brewed fresh coffee and added Irish whiskey and a touch of brown sugar. Whatever then made him gently float some cream on each drink before serving to his chilled guests we will never know, but history was made that night.
When asked by a grateful guest if the coffee was Brazilian he jokingly replied -"No Sir, it's Irish" In the years to come this mixture has taken the world by storm and given birth to many variations; it is also frequently ruined by a lack of understanding of the sheer decadent beauty of the original: Any bartender who tops his "Irish Coffee" with cream sprayed from a pressure can, serves his creation with rock sugar on a stick to encourage his poor guest to stir the damn thing into a pathetic, milky mess or provides his guest with a straw to slurp as with a milk shake should, in my opinion, get a job in an ice-cream parlour or doing something he has some feeling for.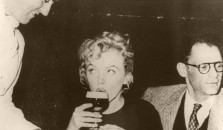 And to you, dear guest, while I respect your right to drink any of my creations in any way you please, once you have paid for them, consider the experience you are missing and, if Marilyn Monroe can manage it without spoiling her lipstick, so can you.
I write this sitting by an open fire at home; my daughter has gone to bed, the various family pets are asleep in their chosen corners, Michael Bublé is singing about Christmas and yes, I am sipping a, if I say so myself, perfectly made Irish Coffee.
Sláinte!