2014-01-13 av Iain Hay.
All the negative things about the temperature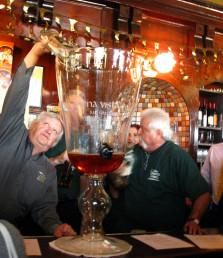 finally dropping past -5° (heating bills soaring, cars sliding around all over the place, frozen toes and fingers, and the irony of how the cold arrived a few hours after my skiing holiday ended!) is almost outweighed by the hedonistic pleasure of stepping in from the cold and sipping a steaming, warm beverage as the limbs thaw…..aaaaahhhhhh!
Coffee, tea and hot chocolate do, of course work well, but the whole experience becomes so much more pleasingly complex with the addition of booze 😉
To greet the chilly season I have been wracking my memory, leafing through old books and playing with diverse ingredients to find some warming alternatives to the Irish Coffee (seen here entering The Guinness Record Book) and will be offering you frozen people a number of steaming alternatives as you step through the door.
Welcome to The Bar!