2013-07-18 av Iain Hay.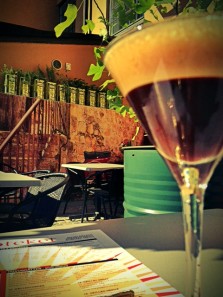 This summer as the temperature rises and the sun is giving us all that Mediterranean feeling, I invite you to come down to Enoteket and partake of a particularly Italian pleasure:
Sit yourself down in our little "piazza" by the gushing waters, watch the folks going by and sip on a Caffè Shakerato, Italy's answer to all the chilled and frozen coffee drinks that dot the market place.
Simple in preparation and presentation, this is a delicious, chilled espresso, sweetened and shaken to a light, foamy beverage perfect for those moments of summer contemplation. Served either in it's original non-alcoholic form, our spiked with a shot of grappa or your favourite liqueur, the result is always pleasing.
So, come visit and enjoy some sweet Italian moments with us…
Ciao!